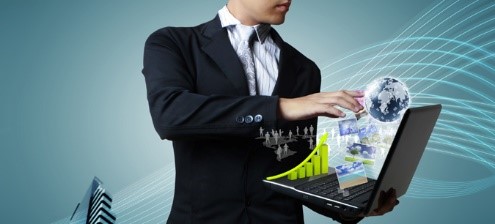 BALANCE SCORECARD (BSC) is a management tool that helps implement a strategy (Strategic Implementation) by measuring or evaluating. (Measurement) that helps organizations to be unified. And focus on the things that are important to the success of the organization (Alignment and focused) by using KPI as an important mechanism for evaluation
By considering the indicators in four perspectives (Perspectives) views on all 4 sides, with the vision and strategy of the organization as the center consists of
Financial Perspective
Customer  Perspective)  
Internal  Process  Perspective)
Learning  and  Growth  Perspective
Overall structure and system
There is a system architecture Web Based Application.
Have behavior through Protocol HTTP หรือ HTTPS.
Can set conditions for checking the accuracy of imported data.(Input Validation) By having the system inspect the data import screen.
There is a function to support import and export.
Data in the form of Text, Spreadsheet, XML and others as needed by the system.
Able to search information from work systems under various conditions.
Can set user level privileges such as system administrators, system usersData usage rights can be defined, such as browsing, adding, deleting, editing, updating data and printing in each program.
Software and components that are essential to the operation of the software Must have legal copyright And according to the agreement (the agreement) specified by the copyright owner
Connection with other systems.
Able to link with the directory system to show the organization information according to the structure in the organization's information system.
Can display the data in the form of Widget in accordance with the standards set by the organization. To display brief information based on the rights of personnel who can access the work system information in the organization's web portal.
Able to link information of other work systems that the organization uses to create all kinds of information efficiently by the Web Service or other suitable methods such as sales information, financial information and management. Personnel information, etc.
System management
There is a function and tools to help manage the system and easily change the values ​​in the system. Without the need for technical knowledge
Can set access rights to the work system And access to information at different levels, such as the right to use various functions, the right to browse information and reports, the right to edit information, the right to cancel the list.
Can set the system user group By designing to be able to define an unlimited number of system users groups and able to assign system usage rights to each group.
Able to record operations in various steps, such as editing user rights, editing parameters by storing them in a log form that shows the list to understand.
Can record the access details of each user By showing details of date and time of access to the system (Log in) such as adding information Editing information And can inquire Show results of system access According to various conditions such as by date and time of using the system Broken down by each user that accesses the system.
Can automatically log off when there is no use for a specified period.
Security
Develop systems to meet OWASP security standards.
Able to connect to the security infrastructure system that exists.
There is an effective security system to secure the access.
System data management Has at least the following features
Can specify key performance indicators (KPI's) data for each assessment year.
Assessment period for each indicator (KPI's) can be specified by year, quarter, month.
Able to assign Analog Meter data to indicators According to the organization's specified criteria.
KPI's can be assigned to the responsible department for each metric as a framework for evaluation.
Can specify target value data for each metric. (KPI's Target)
Performance values ​​can be determined for each metric. (KPI's Actual)
Can add and edit master data lists And the list of operating results Including changes of related items.
Data processing and display the progress of the implementation of the strategic plan as a dashboard dashboard display the percentage and data table.
Show data and report on data changes as specified by the organization.
Show metric data by dimensions And display the Analog Meter indicator (color level according to the specified criteria)
Inquiries for additional system demonstration: Marketing and Sales Division Tel. 09 6294 9236