At present, many organizations have organized academic seminars. Training staff In order to disseminate academic knowledge or to update new information which has many activities in preparation including speakers, course content, venue, snack room, public relations and many more.
      i-Regist system i-Regist Is a system that helps facilitate the public relations of the seminar. Training or knowledge dissemination. In addition, registration is open for those interested in both Online / Offline. Can install and use the database with corporate websites such as Joomla, Wordpress.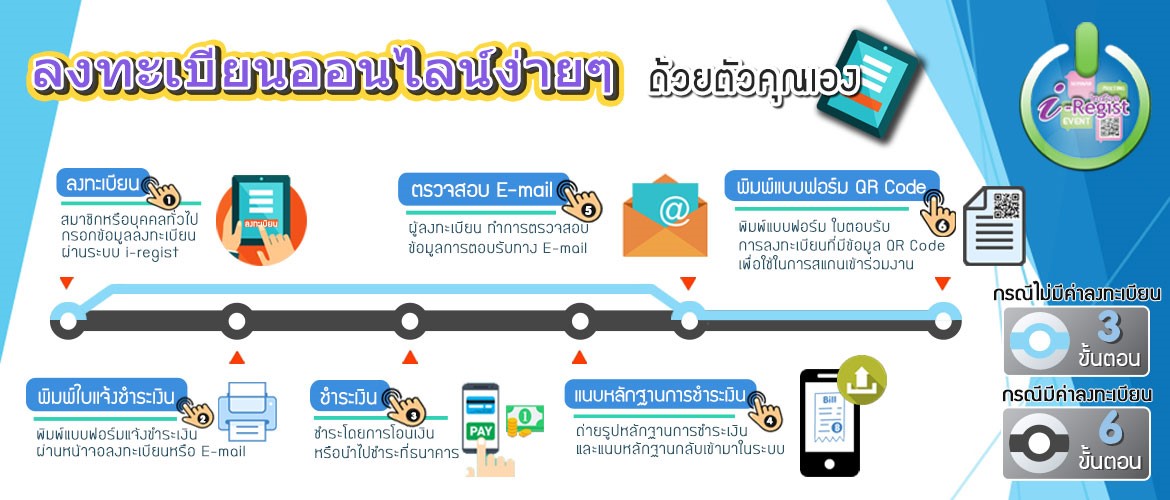 The system is highly flexible because the administrator can manage basic information about Launching new academic seminars or training programs, adding information about locations, costs, membership fees and registration. An organized room can specify the number of people that can accommodate. Can specify the type of food for the registrants to choose, etc. can also check the list of registrants and group registration And printing reports such as member lists List of registrars, signatures, labels, certifications and receipts.
     For members and guests Will be able to inquire for information, publicize, as well as apply for membership and register for a seminar for the course of interest (within the time specified by the organizer), printing the payment form to pay the registration fee at the bank Notification of proof of payment Printing registration confirmation And checking the registration results quickly and accurately.
Application features for system administrators
Supports defining basic information consisting of the member type table., Name prefix table,  Course schedule,Registration fee rate table And membership fees,Location table, Room table, zone table and seat color, food type, district table, province table.
Saving member information
Speaker information recording And speaker history.
Saving project information.Banner)
Group registration.Excel Loader)
Approval or confirmation of a new membership application.
Approval or confirmation of registration.
Printing reports such as invoices.Receipt, signature, name tag, receipt, certificate, etc.
Features for general users
Inquiring about project information such as the location, date and time of the event View schedule via map. Google MAP เป็นต้น
Subscriptions
Registration
Checking registration results
Payment notification and printing the receipt with(QR Code)
Take an online assessment (Connect with Google Form)
Editing personal information or changing passwords
This program is for
Training Companies The company issued a certification of work
Government Agencies, Universities, Associations, Hospitals, and Private Companies. That has various training events, seminars or activities such as marathon events etc.
i-Regist "answers to all registration" (Promotion!!!)
Domain registration or renewal fee (Domain)

* Free until the end of September 2018.
* Install and use within 1 week.
* Conditions are as specified by the company.
More information on 
contact (Contact)
คุณทวีวัตร์ ทรรศนะประทีป
02-532-5151, 081-752-9549
Email: This email address is being protected from spambots. You need JavaScript enabled to view it.